DESCRIPTION
STEDI 7 INCH TYPE-X SPORT LED DRIVING LIGHTS
Our STEDI 7 Inch Type-X Sport LED Driving Lights are the very best representation of our brands' spirit and culture. The performance & quality surpasses that of the most respected players in the industry. At only $419.99 per pair, they also happen to cost $1000 less.
HIGH PERFORMANCE – ACCESSIBLE PRICE
We welcome the all-new 7″ Type-X Sport. Our most affordable driving light yet.  Our very existence as a brand is to offer high-performance, high-quality driving lights at accessible prices.  Compare build quality, performance and list of inclusion with other offerings on the market and you will conclude that our Type-X Sport is peerless.  (Registered Design Number 201914860 & Registered Trademark).
LEGENDARY TYPE-X DNA

It's been three years since the inception of original Type-X. We've taken an already proven platform and completely redesigned it from the ground up. All-new reflector geometry, all-new LEDs and an all new housing.  We've increased the depth of the optics by 35% allowing for a perfectly cullimated beam and the resultant increase in light intensity. As a result the beam diameter strikes a sublime balance between width and throw and will send light right out to XXXXXm. Four dedicated built-in wide-beam optics disperse light in the near field and transition beautifully with the spot beam.
STEDI 7 INCH TYPE-X SPORT DESIGN LANGUAGE
Some people call it the little things but for us, it is literally everything. Because we obsessed over even the most trivial geometries and design elements to achieve a visually stunning luminaire. The 4mm 304 Stainless steel bracket features our signature shoulder armor with laser-cut STEDI branding. A carefully considered orange rim surrounding the housing offers just the right amount of visual impact. Also ensuring that the overall look and feel plays nice equally on a Sandy Taupe Land Cruiser as it will on Magnetic Grey Ranger. We've even made a 7 inch smiley cover to suit for that extra custom look!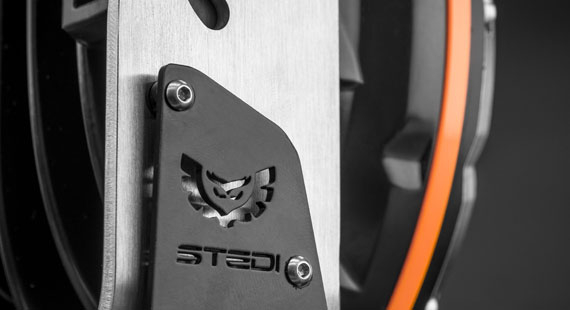 ENTER THE WORLD OF STEDI

The internet is littered with mediocre lights. 98% of driving lights offered in the marketplace are off the shelf imports with the reseller's laser logo and subsequent price mark-up. So don't even get us started on the fictitious performance claims. When you enter the world of STEDI, you're buying into a product which is mechanically and optically engineered. It comes with our know how and our tooling, with our reputation and warranty standing right behind it. Because of endless hours of research and development our lights won't fade, turn yellow and fall-off at the first sign of corrugations. Our photometric data is lab tested, not photo shopped. We stand by it.
STEDI 7 INCH TYPE-X SPORT DETAILS
THE NERDY DETAILS
4mm thick 304 Series Stainless Mounting bracket, which includes rubber dampener and an additional 3mm upper plate.
A360.0 Cast Housing | Boasting superior strength and corrosion resistance.
3mm Thick GE Lexan Lens with hard coating.
Virtually unbreakable & scratch resistant
100% Polyester UV and abrasion resistant powder coat
IP68 | Dust & Particle tight + Water-proof up to 3 meters
Nitto Denko Pressure Equalization vent with membrane.
Protects against water ingress, dust & contaminants.
Environmentally Sealed Deutsch® DT-2 connector
EMI & RFI Suppression circuitry. We guarantee it.
Each 7″ TYPE-X Sport comprises 32 of OSRAM's® finest OSLON® LED, selected for its high luminous flux and perfectly matches optical properties.
4 wide-beam reflectors built-in, which form a lateral shaped flood pattern designed to minimize valuable light wasted up to the sky.
5700K CCT offers stunning clarity and definition with excellent Colour Rendering Index (CRI)